The small dedicated team at Christian TV are passionate about Jesus, and are committed to providing the Christian channels and safer viewing for families in the UK. Run by Christians for Christians, we believe it is vitally important that we are careful to have good spiritual food, so "watch what you watch"!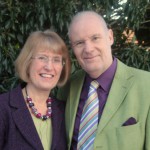 Having pastored a church in their village for some years, Revs David & Jan Green established Christian TV in 2002, taking on from God TV who had until then provided satellite boxes to receive their channel.  David & Jan are now resident in Congleton, Cheshire, and the ministry continues to bring safer viewing and encouragement to Christians. They are members of New Life Church, Congleton www.nlchurch.org.uk
Shane Wright specialises in customer care, telephoning our customers on a regular basis as part of our on-going service. He prays for many of them over the phone, and it is always an encouragement to hear of lives touched by God.
Shane also has a preaching ministry, speaking at his home church, New Life Church, Congleton, as well as preaching and ministering by invitation at other churches throughout the UK.
Julie Francis keeps watch on channels providing the update files
and updating our website and Facebook page. Julie is a wife and
mother, and also runs Boys Brigade. She is on staff at a local Primary
school.
David & Jan Green also make videos and programmes for the Christian channels, many of which can be seen at: www.BritishChristian.TV